I'm not especially good at responding to technology.
As in, my phone sits more often than not in my purse without ever once being looked at through the course of the day. My e-mail is viewed at random and forgotten just as quickly. I'm not one who subscribes to the idea that we have to be accessible 24/7.
It's a flaw, for sure. It's not very polite, and is definitely off-putting to some of my more tech savvy friends. I can just hear the hair flip now:
ugh, she didn't respond to my text and it has been an
entire day
! Whatever, major loser! She must hate me! Well I hate her first. I'm going to go buy some toilet paper to TP her house!
So in the interest of self preservation, and saving myself from having to fish soggy TP out of my tree, it's time to respond to some of the e-mails you have sent me. Most of them are questions, which I will answer as honestly as I can. And, in the mean time, I'm committed to checking my e-mail more frequently than once a month (just in case you have any more):
melissa.strassner@gmail.com
. So ask away.
Episode 1:
I am not a baker, but I like your idea about baking bread. What kind of bread machine do you use and where do you find your recipes? Any tips for the reluctant baker?
Dear Reluctant Baker,
Here's the thing about baking bread: If I can do it, anyone can. Honest.
I use this machine: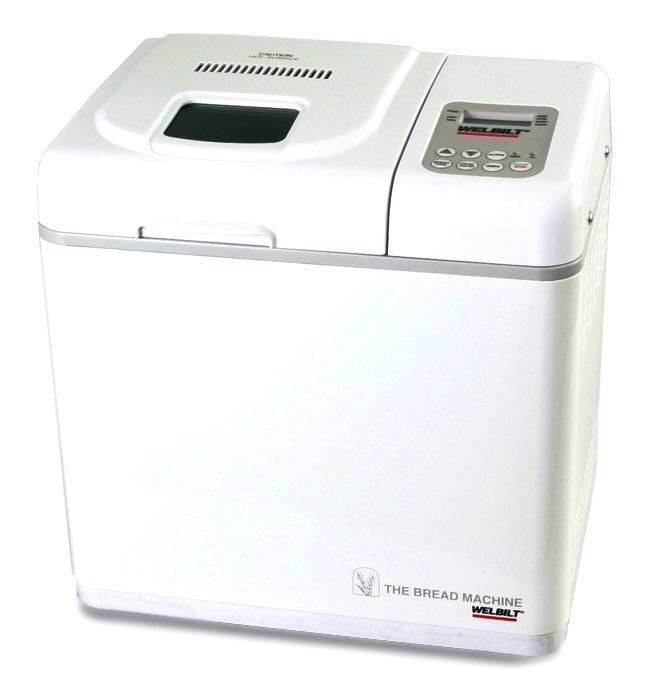 Welbilt 4400
Which is the same model my grandmother had when I was growing up. She found one at a garage sale and gifted it to me, and if it's any indication, I can't even find it on Amazon.
This one
seems like it might be pretty close, but since I can't vouch for any other model than my circa-1995 one, I really couldn't advise you.
Grandma also gifted me
this book
, which I love even though the recipes aren't designed for my bread machine. I'm pretty sure it is for a Wolfgang Puck machine that can be purchased on HSN, because I absolutely did not come by my sick obsession with HSN on my own. That was definitely an inherited trait which might have skipped a generation, since my mom doesn't seem to be afflicted.
I usually make white bread, because A) it's easy and B) it's yummy. Yes, that's the depth of my reasoning on the issue. Here is a very simple recipe that has been modified to fit my machine.
White Sandwich Bread
1 cup water
1 TSPN apple cider vinegar
1 TBSP sugar
1/2 TBSP kosher salt
1/4 cup vegetable oil
2 1/2 cups unbleached bread flour
2 heaping TSPN bread machine yeast
Here's where it gets tricky: Add all ingredients into the bread machine IN THE ORDER listed. Select "Basic" and "Light" from the menu. WALK AWAY from the bread machine.
So.... maybe not so tricky after all, right?
I'm not a bread connoisseur and I'm not especially picky, but this is a solid and tasty loaf. My only struggle with home bread making is the cutting part. I suck at slicing the bread, and even with my electric knife my slices were all falling apart and uneven and looked like they had been cut by the love child of Freddy Krugar and Leatherface. The tops were bigger than the bottoms, and every piece was a different size. It wasn't going to work.
To solve this probelm, I simply take my home-baked loaf to my local grocery store and ask the good folks at the bakery to run it through their slicer. It works every time, and even though the guy at the checker line always tries to find a barcode and ring it up, we've never had a problem when I explain to him that I'm not stealing it. Ta-Da! Evenly sliced, home-baked bread.
Delicious.
If this is something you're interested in but not sure about, I'd say just go for it. Bread machines are not terribly expensive if you go about them the right way (although like anything else, they can get outrageously costly. Think about your needs and budget and buy smart. Don't be afraid of a used one at a great price!). To make a single loaf, it seems like an expensive process, but if you do it regularly it's downright economical in the long run. Don't be afraid to play with the recipe, either. My original recipes were turning out way too heavy and dense, so I simply cut the flour and the yeast until I figured out a consistency that works for me and my family. If you ruin a loaf in the process, so be it. Make another! That's the great thing about this.
Plus, there is simply nothing better than the smell of freshly baked bread. It's
sooooo
awesome.
Let me know if you try it, or if you have any tips or tricks of your own.